GBC Campus Safety App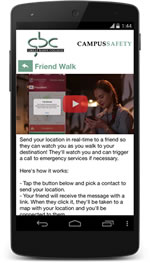 GBC Campus Safety is a free mobile safety app that makes receiving and reporting emergency related information easy as texting, sharing and commenting.
Easy Access to Campus Security!
The app gives students and staff swifter access to security and additional emergency resources.
Contacts include GBC Security and various non-emergency resources on campus as well as 911.
Text GBC Campus Security!
In the case that a student or staff member could not call Security, there is a feature that allows you to send a text message and photo directly to security.
Students located at GBC branch locations have the same benefits from the app as those located at the Elko campus.
The contact tabs are designated to each service area representative in those areas. In the case of an emergency at any GBC location, alerts will be sent to all of those who have the app.
Friend Walk Feature!
You can send your location in real-time to a friend as they watch you walk to your destination. The app uses Google Maps of all GBC branches and centers located across the state.
Download Now!
GBC Campus Safety is now available in the App Store and Google Play, and can be found by searching keywords "Great Basin College Campus Safety." The app is completely free, paid for by the GBC security office.
For More Information Contact
Campus Security
775-934-4923
campus.security@gbcnv.edu
Why Great Basin College
Great Basin College wants to be your choice for higher education. GBC offers associate and baccalaureate level instruction in career and technical education and academic areas. About 4,000 students are enrolled annually online from across the country and on campuses and centers across 86,500 square miles, two time zones, and ten of Nevada's largest counties. We border Arizona, Oregon, Idaho, Utah, and California. We are GBC!