Constitution Day

"We the People of the United States, in Order to form a more perfect Union, establish Justice, insure domestic Tranquility, provide for the common defense, promote the general Welfare, and secure the Blessings of Liberty to ourselves and our Posterity, do ordain and establish this Constitution for the United States of America."
Those words are familiar to most Americans as the Preamble to our Constitution. We all take pride in the United States as a nation of laws, but also of individual rights and liberty.
This day gives us a special opportunity to remember and recognize our heritage, to think about the "blessings of liberty" and about what they demand of us in return as responsible citizens. Constitution Day commemorates the formation and signing of the U.S. Constitution on September 17, 1787. This Constitution Day web page provides some resources on the history and meaning of the Constitution. We hope it will help you find information and inspiration.
Please join GBC as we celebrate U.S. Constitution Day 2021!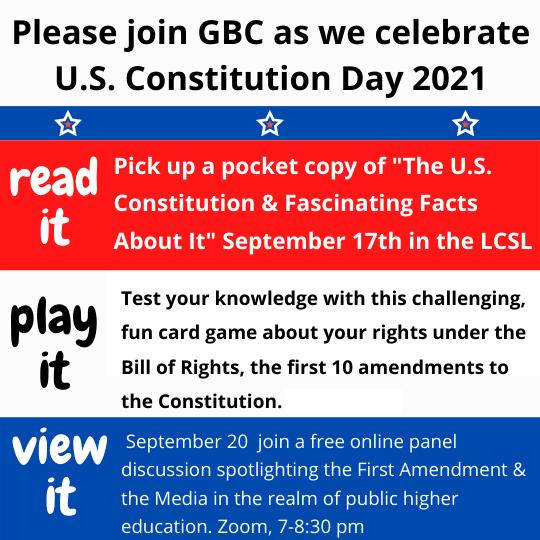 Read It!
Pick up a pocket copy of "The U.S. Constitution & Fascinating Facts About It" September 17th in the Leonard Center for Student Life.
Play It!
Test your knowledge with this challenging, fun card game about your rights under the Bill of Rights, the first 10 amendments to the Constitution.
View It!
September 20 join a free online panel discussion spotlighting the First Amendment & the Media in the realm of public higher education. Zoom, 7-8:30 pm.
Constitution Day Facts & Fun
For More Information Contact
Great Basin College
1500 College Parkway
Elko, Nevada 89801
Phone: 775.777.4793
Why Great Basin College
Great Basin College wants to be your choice for higher education. GBC offers associate and baccalaureate level instruction in career and technical education and academic areas. About 4,000 students are enrolled annually online from across the country and on campuses and centers across 86,500 square miles, two time zones, and ten of Nevada's largest counties. We border Arizona, Oregon, Idaho, Utah, and California. We are GBC!