GBC Administration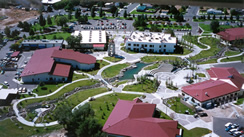 An elected Board of Regents sets policy for member universities and colleges of the Nevada System of Higher Education (NSHE).
The Board appoints a Chancellor to serve as the NSHE's chief executive officer. The Chancellor works closely with the Regents and presidents of the various institutions to develop NSHE strategies and implement Board policies.
GBC's President hears recommendations from both an Advisory Board, comprised of community leaders from the college's service area, and a President's Council, consisting of GBC's top administrators.
GBC has Vice Presidents, who report directly to the President, who oversee:
Student and Academic Affairs
GBC's Office of Institutional Research provides data to assist other administrators with planning and assessment of institutional effectiveness.
A separate aspect of GBC's administration is its fundraising organization, Great Basin College Foundation. The Foundation is a private, non-profit corporation that develops partnerships within the private sector to enhance the value of higher education at Great Basin College.
Search GBC Administrative Documents
Search GBC Faculty Senate Documents
For More Information Contact
Great Basin College
1500 College Parkway 
Elko, Nevada 89801
Phone: 775.327.5002
Why Great Basin College
Great Basin College wants to be your choice for higher education. GBC offers associate and baccalaureate level instruction in career and technical education and academic areas. About 4,000 students are enrolled annually online from across the country and on campuses and centers across 86,500 square miles, two time zones, and ten of Nevada's largest counties. We border Arizona, Oregon, Idaho, Utah, and California. We are GBC!