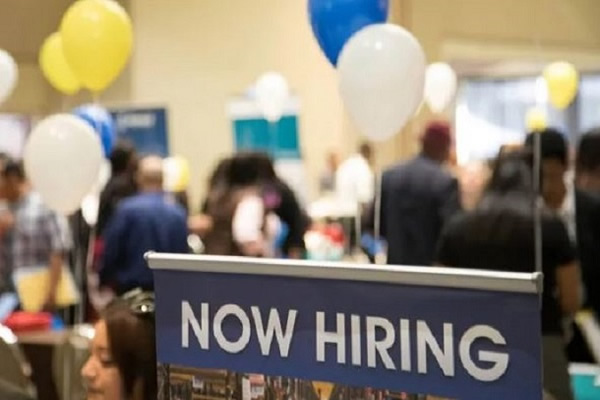 2023 Community Career Fair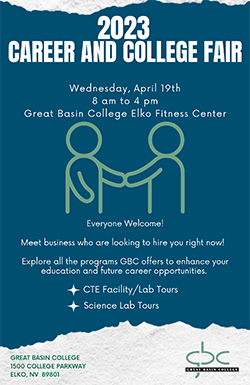 Everyone welcome!
Looking for a new career? Need a one-stop-shop for career resources and dozens of businesses and organizations looking for someone like you?
Meet businesses who are looking to hire you right now!
The annual Community Career Fair, hosted by Great Basin College, will be held 8 a.m. to 4 p.m. Wednesday, April 19 at the GBC Fitness Center in Elko.
Explore all the programs GBC offers to enhance your education and future career opportunities.
The career fair features employers who represent various industries, including public safety, health care, mining and land management. The career fair gives attendees an opportunity to network, explore career and educational options, obtain employer information, and locate summer jobs, internships and full-time employment. Activities will include tours of CTE facilities and labs, and science labs, every hour.
Businesses are welcomed to participate in the event. Table and chairs are provided to businesses at no cost.
For more information, contact Brittney Maynard 775-327-2069.
Great Basin College, "The Gold Standard in the Silver State."
For More Information Contact
Brittney Maynard
Assistant Director of Academic Advising
Phone: 775.327.2069
Location: Berg Hall, Elko Campus
E-mail: Brittney.Maynard@gbcnv.edu
Why Great Basin College
Great Basin College wants to be your choice for higher education. GBC offers associate and baccalaureate level instruction in career and technical education and academic areas. About 4,000 students are enrolled annually online from across the country and on campuses and centers across 86,500 square miles, two time zones, and ten of Nevada's largest counties. We border Arizona, Oregon, Idaho, Utah, and California. We are GBC!