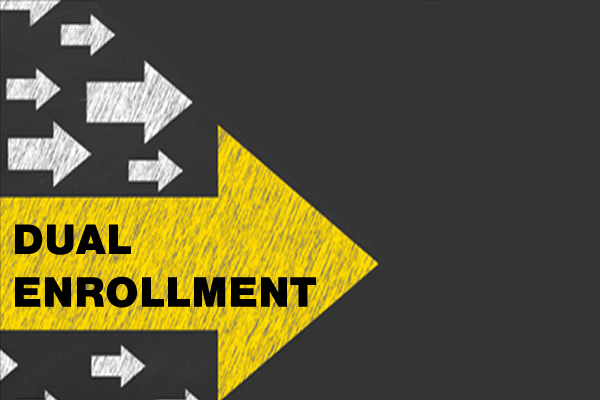 Dual Enrollment Program
GBC faculty and staff are pleased you have decided to begin your college career! Below are the steps to begin. All forms should be turned in to the Admissions and Records Office. For questions please contact the Admissions and Records Office at 775.327.2059.
Brand new for 2020 is the Certificate of General Studies! This Certificate of General Studies will provide high school students the opportunity to achieve 30-31 credits of general education courses prior to high school graduation. For more information visit our Certificate of General Studies page!
5 Steps to Start Your Pathway!
The following steps are required only upon initial enrollment:
Discuss your intentions with your high school counselor or principal.
Submit a GBC Application for Admission online at http://www.gbcnv.edu/admissions/.
Many courses (including English, Math, and Social Science) require that you take the Great Basin College Accuplacer test or provide us with your ACT or SAT scores. To arrange for the Accuplacer test, which is free, call the GBC Academic Success Center at 775.327.2247 or visit the nearest GBC Center in our area of outreach.
Complete the High School Forms Packet (PDF file*).
At this time, the College and Career Readiness grant is unavailable for AY 2020-2021.
Important Note to Parents and Students
GBC complies with the Family Education and Privacy Act (FERPA). Parents will not have access to student grades, financial records, etc. High school students enrolled in dual enrollment courses are treated like any other college student. The student, and not the parent, must sign the appropriate approval forms, resolve concerns with course instructors, access his or her own grades, etc. All fees are due before classes begin. It is the student's responsibility to check for transferability of GBC courses to other educational institutions.
Expectations
Expectations in college are different than high school:
High school personnel signing students' registration form are indicating they feel the student has the intellectual and emotional maturity to be enrolled in college classes.
Most college classes will be more difficult and require more hours.
It is the students' responsibility to discuss issues with their instructors. Because of federal privacy laws, parents will not generally have access to students' academic records, financial records, or professors.
Failing a dual credit college class may delay high school graduation.
Academic dishonesty such as plagiarism and cheating will be treated more severely. Even one serious incident can result in an "F".
Attendance policy is stricter. Pre-arranged absences for extracurricular activities at the high school do not apply to college classes. Absences should be discussed beforehand with professors, whose policies may vary regarding how many excused absences are allowed.
It is the students' responsibility, before the 60% drop deadline, to withdraw from any courses they are not going to complete. Otherwise, they will receive an "F" on their transcript.
High school and GBC calendars rarely match, so there may be conflicts with vacation breaks.
Other Options for High School Students
Please see the High School page for additional options available to students now in high school.
For More Information Contact
Academic Advising and Career Center
Great Basin College - Berg Hall
Elko, Nevada 89801
Office: 775-727-2000
Monday through Friday 8 am - 5 pm PT (Appointment Only)
Why Great Basin College
Great Basin College wants to be your choice for higher education. GBC offers associate and baccalaureate level instruction in career and technical education and academic areas. About 4,000 students are enrolled annually online from across the country and on campuses and centers across 86,500 square miles, two time zones, and ten of Nevada's largest counties. We border Arizona, Oregon, Idaho, Utah, and California. We are GBC!