Accelerate Your Pathway
Great Basin College offers high school students the opportunity to jump start college while completing high school. Academically, the senior year is not the time to "hibernate", research supports that students completing at least six college credits while in high school are significantly more likely to graduate from college.
GBC offers course delivery options including live classroom, IAV, online or hybrid. Dual enrollment courses, regardless of delivery mode, are 50% of regular registration and technology fees.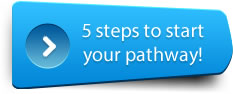 Goals of Dual Enrollment
Increase access to Higher Education
Provide college courses at an affordable cost
Increase college degree attainment
Education Pathways
Certificate of General Studies
This Certificate of General Studies will provide high school students the opportunity to achieve 30-31 credits of general education courses prior to high school graduation.
Students may also earn free college credit for approved high school Career and Technical Education programs.
For More Information Contact
Academic Advising and Career Center
Great Basin College - Berg Hall
Elko, Nevada 89801
Office: 775-727-2000
Monday through Friday 8 am - 5 pm PT (Appointment Only)
Why Great Basin College
Great Basin College wants to be your choice for higher education. GBC offers associate and baccalaureate level instruction in career and technical education and academic areas. About 4,000 students are enrolled annually online from across the country and on campuses and centers across 86,500 square miles, two time zones, and ten of Nevada's largest counties. We border Arizona, Oregon, Idaho, Utah, and California. We are GBC!