HVAC and Construction Program
Great Basin College, along with local Construction and Heating Ventilation Air Conditioning (HVAC) contractors and the Elko County School District (ECSD), is starting a Construction/HVAC program at Elko High School. This program will provide high school students two years of training in Construction and two years of HVAC training. There is NO cost to students and can lead to high demand careers! See the brochure!
This is a tremendous, new opportunity for Elko High School Students!
Earn National Center for Construction Education & Research (NCCER) Credentials taught at Elko High School credentials that will lead to GBC credit and can be used to enter any number of GBC/CTE programs.
Have a question? Contact Elko high School by telephone at 775-738-7281.
Program Partners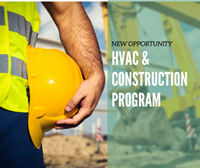 Program partners include:
Great Basin College
Elko County School District
Elko High School
National Center for Construction Education & Research (NCCER)
Charles Chester Plumbing and Heating
Snyder Mechanical
Ormaza Construction
Canyon Construction Company
Granite Construction
Ames Construction
Braemar
Parker Solutions
For More Information Contact
Elko High School
Phone: 775-738-7281
Why Great Basin College
Great Basin College wants to be your choice for higher education. GBC offers associate and baccalaureate level instruction in career and technical education and academic areas. About 4,000 students are enrolled annually online from across the country and on campuses and centers across 86,500 square miles, two time zones, and ten of Nevada's largest counties. We border Arizona, Oregon, Idaho, Utah, and California. We are GBC!