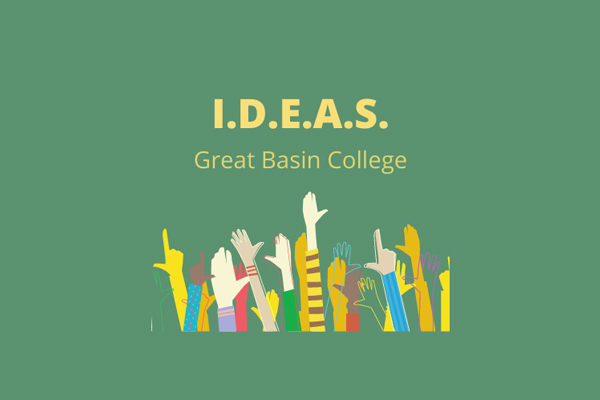 IDEAS at GBC!
For GBC, diversity and inclusion means the intentional practice of understanding differences, identifying the processes that lead to inequities within our society, developing strategies that lead to equity and inclusion, and fostering an environment that promotes mutual respect for all members of this learning community.
We at Great Basin College view these values as essential, much as we value your role in supporting these values within and beyond our community. You are safe to be yourself at Great Basin College. You are welcome at Great Basin College. This is our ongoing promise and commitment to you.
As part of our continuing efforts to foster a tolerant, welcoming college culture allowing any and all members and potential members of GBC's varied and expansive community complete and unconditional access to all that the college has to offer, we put forth this mission emphasizing our dedication and support for the principles of Inclusion, Diversity, Equity, Access, and Sustainability, as defined here:
Inclusion: Great Basin College welcomes any and all individuals regardless of identity, disability or other need that wish to be part of our community and will extend this sense of welcome and inclusion to others as we strive to fulfill our mission.
Diversity: Great Basin College views a commitment to diversity as a recognition of difference as a valuable and essential aspect of human cultures, societies, and existence. We are richer when differences are respected and embraced, rather than simply tolerated.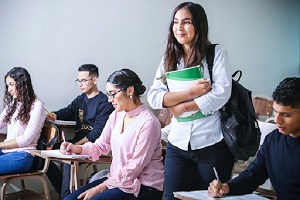 Equity: Great Basin College believes that all organizational and individual interactions within our community should be conducted according to egalitarian principles of fairness and justice with respect to individual differences and needs as well as the good of the community as a whole. Equity extends beyond policymaking and procedure to serve as a core value for all decision making and interactions at Great Basin College.
Access: Great Basin College strives to create channels, practices and institutional procedures that strive to remove barriers to courses, degrees, and any other service or activity the institution provides or hosts for all members and potential members of our community. In addition, not only does the college seek to remove barriers, but to facilitate for and support its community members in order to afford them greater access to college services and activities.
Sustainability: In our efforts to engender and foster the values stated above in all of our practices and interactions, Great Basin College seeks to create an ongoing discussion, examination and culture of practice that continually strives to improve and support an inclusive, equitable and accessible collegiate environment that serves all of our members to the best of our ability. The principles outlined and defined here are not simply words, but principles that define Great Basin College.
Land Acknowledge Statement
Great Basin College's Elko, Nevada campus is on the aboriginal homelands of the Newe / Nuwu people. GBC has locations throughout the state of Nevada that are situated on the aboriginal homelands of the indigenous tribes of the Newe / Nuwu (Shoshone), Numu (Paiute), and Wa She Shu (Washoe) people. Indigenous people from other Native nations also reside in Nevada, and GBC's community includes individuals from around the country, encompassing hundreds of cultures and traditions, all who have made innumerable contributions to our institution. We at GBC invite you to join us in being committed to cultural awareness, social responsibility, and measurable actions to support and benefit the Indigenous people who are the original stewards of the land we occupy today.
Concerned About DACA?
For students having concerns about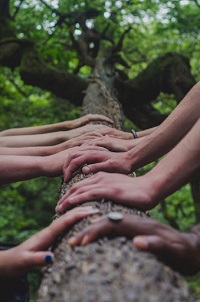 DACA, please contact Jake Rivera.
Jake Rivera
Vice President for Student and Academic Affairs
E-mail: jake.hinton-rivera@gbcnv.edu
Phone: 775.327.2116
Great Basin College DACA and undocumented students are encouraged to visit the Student Financial Services office in Berg Hall on the Elko campus to determine eligibility for student aid. Immigration status is not collected as part of this process. The Student Financial Services office phone number is 775.327.2095.
Sources of information regarding the rescission of DACA:
Diversity Events
Check our page frequently for upcoming diversity events!
Resources
Check our Resources section frequently for more helpful recources!
Diversity Resources and Data
Please view our diversity resources:
For More Information Contact
Jake Rivera
Vice President for Student Affairs
Great Basin College
jake.hinton-rivera@gbcnv.edu
Why Great Basin College
Great Basin College wants to be your choice for higher education. GBC offers associate and baccalaureate level instruction in career and technical education and academic areas. About 4,000 students are enrolled annually online from across the country and on campuses and centers across 86,500 square miles, two time zones, and ten of Nevada's largest counties. We border Arizona, Oregon, Idaho, Utah, and California. We are GBC!