Mentorship
Being provided a mentor is not only a requirement of Nevada Promise Scholarship, but it is a key part of success. GBC will assign mentors to assist students with Nevada Promise scholarship requirements, as well as the GBC admissions and financial aid processes. Read testimonials here!
Qualities of a Nevada Promise Scholarship Mentor
Willing to serve.
Eager to help shape Nevada's future by guiding Nevada's youth.
Ready to share knowledge and expertise.
Enthusiastic about working with young people and helping them grow as future professionals.
Passionate about their work.
Kind and ready to pass it on!

Steps to Become a Mentor
A criminal history report will be conducted by GBC
Complete mandatory mentor training.
Placement: mentors will be matched with up to 5 students.
Meet with mentees once per semester.

If your student is a high school senior only one meeting is required. Meet with your student at least once by June 1, 2022.
If your student is a college student. Please meet with your student once per semester. Fall meeting by January 1, 2022; Spring meeting by June 1, 2022.
Mentor Commitment
Starting Spring 2022, schedule one in-person meeting with your student(s). One in-person meeting needs to occur once per semester.

First in-person meeting must take place before June 1, 2022.
You can select the location, time (approximately one hour), and date of your meeting.
If you mentor more than one student, you can meet as a group.

Contact your student(s) once per month via email, text, or call.

You will be provided with suggestions about important information to share with your student(s).

Commit 3-5 hours per semester.
Guide them through the Nevada Promise Scholarship requirements and be a support system (GBC will provide this information and give you all the resources you will need).

Remind student(s) of deadlines.
Ensure student(s) know when to register for classes.
Talk to student(s) about resources offered at GBC.

GBC will match you with your student and provide student contact information.

Your mentor experience will be what you make it. Besides the minimum requirements, you determine how much contact you would like to have with students. We appreciate your willingness to help guide our students and we appreciate any time you can volunteer.
Restrictions
Mentors cannot be the employers of their mentees.
Mentors cannot be related to their mentees.
Mentors cannot be compensated to mentor. GBC employees are eligible to be mentors, but must not receive additional compensation for serving as mentors.
Each mentor must be willing to provide all information needed to obtain a criminal history report.
Testimonials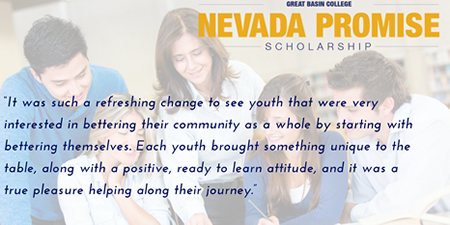 "It was such a refreshing change to see youth that were very interested in bettering their community as a whole by starting with bettering themselves. Each youth brought something unique to the table, along with a positive, ready to learn attitude, and it was a true pleasure helping along their journey."
"I felt so supported by you and had such a great experience that I am willing to be a mentor again. I enjoyed being a part of of my mentee's journey as he worked to finish high school and start the next chapter in his life. The Nevada kids who participate in the Nevada Promise program are hard working, dedicated kids with very bright futures. Who wouldn't want to support that?! This whole experience was absolutely fantastic and fulfilling."
"Mentoring seniors on their journey to fulfilling the requirements for the NV Promise Scholarship was rewarding! I enjoyed reaching out to them, supplying them with my contact information, and conversing with them in regard to upcoming deadlines, meeting requirements, and general questions. Helping future GBC students secure funds for their education is very important and meeting the requirements for the NV Promise Scholarship is a great way to do this. A mentor can take some of the stress off and help guide seniors during this very busy period of their lives."
For More Information Contact
Financial Aid Office
Great Basin College
Phone: 775.327.2095
E-mail: financial-aid@gbcnv.edu
Why Great Basin College
Great Basin College wants to be your choice for higher education. GBC offers associate and baccalaureate level instruction in career and technical education and academic areas. About 4,000 students are enrolled annually online from across the country and on campuses and centers across 86,500 square miles, two time zones, and ten of Nevada's largest counties. We border Arizona, Oregon, Idaho, Utah, and California. We are GBC!