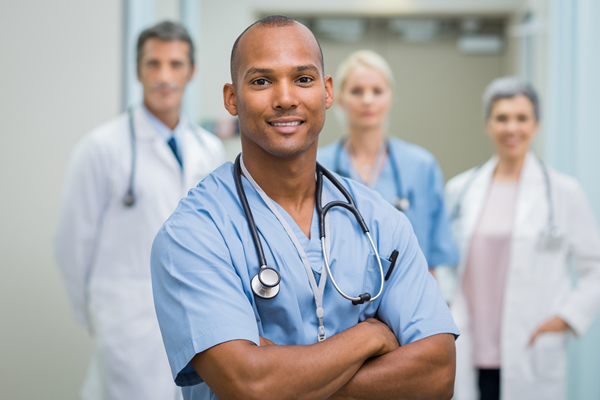 RN to BSN Nursing Program
Take your RN degree to the next level within one year!
Mission
The Registered Nurse to Bachelor of Science in Nursing Degree
RN to BSN program prepares registered nurses for research and
theory-based professional practice roles as leaders and change
agents in the transformation of health care for rural and underserved
populations.
RN to BSN
The RN to BSN incorporates a liberal education that supports
integration of concepts from the social, natural sciences, and the
humanities that are essential to understanding the self and others as
well as the nature of health and disease ACCN. Translating research
and evidence into practice is a cornerstone of BSN prepared practice.
The RN to BSN graduate can provide safe, quality care to individuals,
families, groups, populations, and comunities experiencing common
to complex health problems in structured and unstructured
settings. The nurse prepared at this level:
Applies organizational and systems leadership theories to the
roles of designer and manager of care.
Applies information management and effective application of
patient care technology at all levels of care.
Provides health promotion and disease prevention for groups
and populations.
Initiates and leads collaboration with other providers and
disciplines to ensure quality and safety in health care delivery
to underserved populations.

RN to BSN is built on competencies derived from the major concepts
that the nursing faculty considers to be central to BSN practice. Those
concepts are collaboration, leadership, informatics, evidence-based
practice, population-focused care, and quality improvement.
Upon completion of the RN to BSN Program, students are expected to:
Provide safe, quality, evidence-based care to populations and
communities in structured and unstructured healthcare environments.
Analyze quality improvement measures used in both structured
and unstructured health care environments.
Act as an evolving scholar, translating current evidence into
nursing practice.
Evaluate collaboration techniques used in various healthcare
environments.
Apply leadership principles and theories to both the practice
and the profession of nursing.
Apply information management principles, techniques, and
systems to manage knowledge, mitigate error, and support decision-making.
GBC WebCampus
A totally online program, the RN to BSN Program is designed for non-traditional RN students with an associate degree who want to continue their education in nursing and still be engaged in practicing their profession. The program allows the flexibility to work toward a degree full-time or part-time. Direct practice in a clinical setting is not a requirement in the RN to BSN Program.
Nursing course theoretical content and practicum application is relevant across all healthcare settings and nursing roles, including those unique to the needs of rural populations and communities.
Admission
Admission to the RN to BSN Program is a separate process from admission to GBC. Enrollment is limited and students are admitted only in the fall semester. Official associate degree program transcripts must be submitted. Additional materials will be required if accepted. An in-person or telephone advisory meeting with a nursing faculty is recommended at the time of application and required prior to enrollment in nursing courses. Deadline for application submission is the first week of July.
To qualify for admission, applicants must have:
an active RN license in the state where currently practicing by the time course work begins.
graduated with an Associate Degree in Nursing from an ACEN accredited program and regionally accredited college.
a GPA of 3.0 or higher on a 4-point scale.
Transcript evaluation might be necessary and may require supporting information such as course syllabi and books.
Program Cost
Estimated Program Costs.
Tuition: Approximately $10,100 as of Fall 2019
Books: Approximately $200 per semester
Choose Your Track
GBC offers multiple track pathways that provide flexibility to accommodate your lifestyle:
3-semester track
Traditional track
Part-time track
Accreditation
The Registered Nurse to Bachelor of Science degree in nursing at Great Basin College at the Elko Campus located in Elko, Nevada is accredited by the:
Accreditation Commission for Education in Nursing (ACEN)
3390 Peachtree Road NE, Suite 1400
Atlanta, GA 30326
(404) 975-5000
The most recent accreditation decision made by the ACEN Board of Commissioners for the RN-BSN Program is Continuing Accreditation.
View the public information disclosed by the ACEN regarding this program.
Why Great Basin College
Great Basin College wants to be your choice for higher education. GBC offers associate and baccalaureate level instruction in career and technical education and academic areas. About 4,000 students are enrolled annually online from across the country and on campuses and centers across 86,500 square miles, two time zones, and ten of Nevada's largest counties. We border Arizona, Oregon, Idaho, Utah, and California. We are GBC!