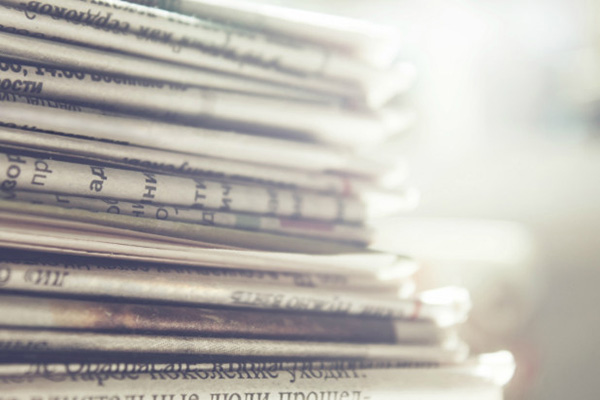 Celebrating International Education Week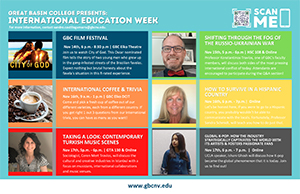 2022- Help Great Basin College celebrate International Education Week with these incredible events:
GBC FILM FESTIVAL

Nov 14th, 6 p.m.- 8:30 p.m | GBC Elko Theatre
Join us to watch City of God. This Oscar nominated film tells the story of two young men who grew up in the gang-infested streets of the Brazilian favelas. Expect nothing but brutal honesty about the favela's situation in this R-rated experience.

SHIFTING THROUGH THE FOG OF THE RUSSIO-UKRAINIAN WAR

Nov 15th, 5 p.m.- 6p.m | HSC 108 & Online
Professor Konstantinos Travlos, one of GBC's faculty members, will discuss both sides of the most pressing international conflict of today. Attendants are encouraged to participate during the Q&A section!

INTERNATIONAL COFFEE & TRIVIA

Nov 16th, 9 a.m.- 1 p.m | GBC Elko DCIT
Come and pick a fresh cup of coffee out of our different varieties, each from a different country. If you get right 1 out 3 questions from our international trivia, you can have as many as you want!

HOW TO SURVIVE IN A HISPANIC COUNTRY

Nov 16th, 6 p.m. - 7p.m.| Online
Let's be honest here, if you were to go to a Hispanic country, you probably wouldn't be able to communicate with the locals. Fortunately, Professor Sandra Schmidt, will teach you how to do just that.

TAKING A LOOK: CONTEMPORARY TURKISH MUSIC SCENES

Nov 17th, 5p.m. - 6p.m. | GTA 130 & Online
Sociologist, Ceren Mert Travlos, will discuss the cultural and creative industries in Istanbul with a focus on musicians, international collaborations and music venues.

GLOBAL K-POP: HOW THE INDUSTRY STRATEGICALLY CAPTIVATES THE WORLD WITH ITS ARTISTS & FOSTERS PASSIONATE FANS

Nov 17th, 6 p.m. - 7 p.m. | Online
UCLA speaker, Ishani Ghosh will discuss how K-pop became the global phenomenon that it is today. Join us to find out!
For more information, contact sandro.castillogamarra@gbcnv.edu.
For More Information Contact
Great Basin College
1500 College Parkway
Elko, Nevada 89801
Why Great Basin College
Great Basin College wants to be your choice for higher education. GBC offers associate and baccalaureate level instruction in career and technical education and academic areas. About 4,000 students are enrolled annually online from across the country and on campuses and centers across 86,500 square miles, two time zones, and ten of Nevada's largest counties. We border Arizona, Oregon, Idaho, Utah, and California. We are GBC!