GBC Center in Winnemucca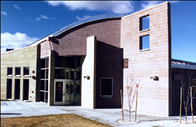 GBC Winnemucca is the center of higher education in north central Nevada. The center has nine classrooms, including one computer and a science lab, a computer-equipped ESL facility and an Academic Success Center (ASC) with an open computer lab for students.
Offered at the Winnemucca Center are live classes and classes conducted in synchrony with other GBC locations via Interactive Video (IAV).
Students in the Winnemucca area may also wish to take classes via WebCampus (the Internet) using lab computers at the center or an Internet-connected computer at home.
GBC Winnemucca offers academic advisement, and tutoring in English and Math as well as placement and proctored testing to GBC students.
Center Information
Director: Lisa Campbell
Address: 5490 Kluncy Canyon Road Winnemucca, NV 89445 [map]
Phone: 775-623-4824
Fax: 775-623-1812
E-mails:
Administrative Office Hours:

Monday thru Thursday, 8:30 am - 5:00 pm
Friday, 8:30 am - 4:00 pm

Academic Advising:

An appointment is strongly encouraged.

Placement Testing:

Monday thru Thursday, 9:00 am - 8:00 pm
Friday, 8:00 am - 1:00 pm.
Arrive in time to complete the two-hour test during these hours.

Proctored Testing:

Phone to schedule an appointment within the following hours.
Monday, 1:00 pm - 8:00 pm
Tuesday thru Thursday, 9:00 am - 8:00 pm
Friday, 9:00 am - 1:00 pm

Live Tutoring
Live tutoring is available in English/Writing and Math/Science. Tutoring hours are generally 9am -8 pm Monday - Thursday and 9 am - 1 pm Friday. However, students are encouraged to come in and sign up or by phone to schedule a specific tutor and time.
Tutoring at a Distance via E-mail or Skype
Check the Academic Success Center (ASC) web page for instructions.
Computer Labs
Lab hours:

Fall and Spring Semesters:

Monday thru Thursday, 8:00 am - 8:00 pm
Friday, 8:00 am - 5:00 pm
Saturday, Sunday, and holidays, closed.

Lab hours may be limited during the summer months, and labs may be closed on holidays. Students using GBC computing facilities must be familiar with and abide by Lab Rules.

Number of computers available:

11 computers in the Academic Success Center
21 in the computer classroom, which may be used when classes are not in session

Operating System:

Windows Version 7, 64-bit

Installed Software:

Microsoft Office 2010, including Word, Excel, Access, Power Point, and Publisher.
Internet Explorer, Firefox, and Chrome web browsers with Adobe Reader.
Additional software may be installed as required for specifc coursework. Check with your instructor.
Rural Locations Administered by the Winnemucca Center
The Winnemucca Center oversees classes offered via Interactive Video, as the need arises, in the following rural locations:
McDermitt:

McDermitt Combined School
Coordinator: Mary Lynn Hill
Email: mhill@humboldt.k12.nv.us
Phone: 775-532-8761
Placement testing available by appointment
For More Information Contact
Lisa Campbell
Director, Winnemucca Center [map]
Great Basin College
5490 Kluncy Canyon Road
Winnemucca, NV 89445
Phone: 775-623-4824
lisa.costacampbell@gbcnv.edu
Why Great Basin College
Great Basin College wants to be your choice for higher education. GBC offers associate and baccalaureate level instruction in career and technical education and academic areas. About 3,800 students are enrolled online from across the country and on campuses and centers across 86,500 square miles, two time zones, and ten of Nevada's largest counties. We border Arizona, Oregon, Idaho, Utah, and California. We are GBC!