Driver Education Classes at GBC
Basic Driver's Education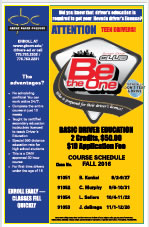 Benefits:
Earn 2 college credits online.
Complete the entire course in 6 weeks.
No scheduling conflicts! You can work online 24/7.
Taught by certified instructors.
Special $50 distance education rate for high school students.
Requirements:
You must be 15 years of age to enroll.
If you have never enrolled in a class at GBC, you pay a one-time-only $10 new student fee in addition to the course cost.
Be sure that your computer meets the requirements for an Internet course.
Course Description:
Introduction to the laws, concepts, and practices of safe driving in Nevada. This course should lead to the student's ability to pass the Nevada Driver Written Examination. This is a classroom course without a driving component. Class Attribute: Non-transferable for an NSHE baccalaureate degree.
Classes Offered:
How to Enroll
Follow ALL steps below:
If you have not already been admitted to GBC, fill out the Application for Admission.
Wait to to receive your 10-digit student user ID and password by e-mail before attempting to register for the Driver's Ed class.
View the classes offered (see links at the bottom of the column at left or right) and make a note of the semester and the class number for the class you want to take.
Register and pay the course fee online at the MyGBC Self-Service Center. (Help in using MyGBC)
Once enrolled, you will receive a letter in the mail assigning you an individual password and explaining how to log into the driver's education class on WebCampus.
Behind the Wheel
(in Elko only)

Benefits:
Learn to drive!
Potentially save money on car insurance.
Requirement:
Course Description:
When you pass GBC's on-line Basic Driver's Ed class you can sign up for the Behind the Wheel course taught by a certified driver's education instructor using Nevada State Board of Education and Department of Motor Vehicles curriculum designed to help you pass the driving portion of the DMV Behind the Wheel exam. Currently offered in Elko only.
Cost:
Classes Offered:
For More Information Contact
Carmen Matlock
Senior Administrative Assistant, Continuing Education
775-753-2202
carmen.matlock@gbcnv.edu
Why Great Basin College
Great Basin College wants to be your choice for higher education. GBC offers associate and baccalaureate level instruction in career and technical education and academic areas. About 3,800 students are enrolled online from across the country and on campuses and centers across 86,500 square miles, two time zones, and ten of Nevada's largest counties. We border Arizona, Oregon, Idaho, Utah, and California. We are GBC!