GBC's Argentum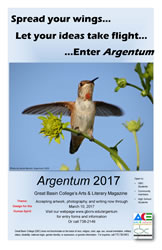 Great Basin College's art and literary magazine devoted to highlighting the excellent artistic expression of its students, faculty and staff. Community members are also encouraged to submit work. High school students 18 and under need a parent or guardian signature on the form.
Argentum 2018 Announcement
Due to the low number of Argentum submissions to date, the ACE committee will not be producing Argentum in 2018. Please contact angie.debraga@gbcnv.edu with any questions, comments, or ideas about future publications. Thank you.
How Do I Submit?
Complete the official Argentum Submission Form including the Declaration of Originality and Copyright Agreement.
All Great Basin College students, faculty, staff, and members of all communities served by GBC are eligible to submit written and visual work. Multiple submissions are accepted and selection will be based on quality and originality.Please submit your completed forms and attached work (or photo of your work), via e-mail to argentum@gbcnv.edu.
What Can I Submit?
Ceramics
Design (graphic or architectural)
Drawing
Painting
Photography (both unenhanced and digitally altered)
Jewelry
Sculpture
Prose (fiction or non-fiction)
Poetry
Any medium that can be represented in print
What Format Can I Use?
Visual Images: Please do not submit PDF files. JPEG or TIF files are preferred:
Dimensions no smaller than 8" x 10" at 300 dpi
Files labeled as: LastNameTitle.jpg
Large pieces-ceramics, sculptures, etc. should be photographed with a digital camera with a plain gray or white background and a white light source (daylight).
Please provide specific medium information (acrylic on canvas, etc.).
Written Work: should be submitted as editable digital file(s) with the following specifications:
RTF files no larger than 750 words
Files labeled as: LastNameTitle.rtf
Only three submissions total per person will be considered.
Resources
Artists and authors may download the submission form:
For information on Rules, Regulations, Rubrics, and photographing your own artwork, click below to learn more:
Argentum Committee
Questions?
If you have questions regarding how to submit or document your work and need assistance in doing so, please contact: argentum@gbcnv.edu.For more information, you can view the flier in English here or the flier in Espanol here!
If you need assistance photographing your artwork for submission, please contact GBC Media Services at 753-2103 to make an appointment. Media Services is open 8 a.m. - 5 p.m. Monday through Friday. They are located in Room 103C in Lundberg Hall.
For More Information Contact
Toni Milano
Argentum Editor
E-mail: argentum@gbcnv.edu
Why Great Basin College
Great Basin College wants to be your choice for higher education. GBC offers associate and baccalaureate level instruction in career and technical education and academic areas. About 3,800 students are enrolled online from across the country and on campuses and centers across 86,500 square miles, two time zones, and ten of Nevada's largest counties. We border Arizona, Oregon, Idaho, Utah, and California. We are GBC!