GEAR UP Program
What is GEAR UP?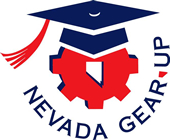 GEAR UP (Gaining Early Awareness and Readiness for Undergraduate Programs) is a federally funded grant that is designed to increase the number of low-income students who are prepared to enter and succeed in postsecondary education.
Current GEAR UP Programming
2018 Summer STEM Camp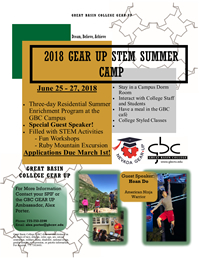 Great Basin College GEAR UP's 2018 Summer STEM Camp is scheduled to take place on June 25-27th. This will be three-day residential summer enrichment program that will be held at the GBC campus. View the 2018 Summer STEM Camp application. The application deadline is March 1, 2018!
Students will be immersed in activities that provide an introduction to the college experience. Lodging will be in the GBC Housing dormitory setting, with up to two persons per room. Eating and refreshment breaks will be held in the café located in the Student Union building located on campus. Several workshops and presentations will be led by GBC Faculty and Staff, offering interaction with actual instructors who are experts within their field. These will also occur in college styled classroom locations to give the same exact look and feel that students can expect while pursuing a post-secondary education.
Activities are centered towards STEM – Science, Technology, Engineering, and Mathematics genres. Various GBC departments will be involved, including Science and Career and Technology Education (CTE). An example of this will be an activity with Arduino kits; a simple computer programming exercise with microcontrollers. A writing workshop that can be easily utilized by students entering a time where resume and scholarship writing is essential. Financial aid activities that are also very applicable as students near college entrance.
Multiple fun and exciting engagements are also planned out of the classrooms. A morning/afternoon Ruby Mountain Excursion with a trip to Lamoille Canyon and hike which will include a geological presentation. To provide refreshing breaks for the students a visit the Elko City Pool and BBQs are planned. A motivational speech will be given by Hoan Do. Hoan is a student success coach, author, and competitor in NBC's hit show, American Ninja Warrior!
GEAR UP Goals
Increase the number of students of low-income families who are prepared to enter and succeed in postsecondary education.
Increase GEAR UP students' and families' knowledge of postsecondary education options, preparation, and financing.
Recruit and enroll GEAR UP students in post-secondary education.
Create a college-going culture that provides all students with the tools necessary to apply for and success in postsecondary education and their careers.
Schools Served by Great Basin College
Elko County
Humboldt County
Nye County
Esmeralda County
Pershing County
Mineral County
Communicate With Cranium Cafe
Video chat with Gear Up Group on Cranium Cafe
For More Information Contact
Alex Porter
Great Basin College
1500 College Parkway
Elko, NV 89801
Phone: 775-753-2299
E-mail: alex.porter@gbcnv.edu
Why Great Basin College
Great Basin College wants to be your choice for higher education. GBC offers associate and baccalaureate level instruction in career and technical education and academic areas. About 3,800 students are enrolled online from across the country and on campuses and centers across 86,500 square miles, two time zones, and ten of Nevada's largest counties. We border Arizona, Oregon, Idaho, Utah, and California. We are GBC!