Great Basin College Theatre Program...

Transform Your Theater Experience!
Who We are and What We Do!
The Great Basin College Theater Program has been transforming the American Theatre Experience since 1996. As part of the Great Basin College Arts and Letters Department, students and faculty join together for enlightened experiences of fine arts, humanities, English, foreign language and communication. The programs are critical components of every academic and training degree program offered by the college.
Specifically, GBC Theatre offers courses in acting, oral interpretation, stage voice, movement for the stage and more. Special Topic courses are added to the schedule regularly, generally taking advantage of the specific skills GBC Theatre's many quest artists and instructors can provide. In the past, courses in playwrighting, armature, effects makeup, Suzuki Movement Training, stage combat and comedy improv have been offered. Planning is underway to expand with more offerings in vocal and instrumental music and dance.
As Great Basin College Theatre approaches its 20th season, it is important to note a number of accomplishments. Silver Stage Players, Nevada's oldest continuously operating community theatre christened the stage in 1995 with a production of the Broadway musical classic, Damn Yankees and followed that show with Agatha Christie's Ten Little Indians, and the female version of Neil Simon's classic, The Odd Couple. In the fall of 1996, GBC welcomed John Patrick Rice, who will soon begin his 20th year as the Director of the GBC Theatre Program. Under his leadership, the college has produced over fifty productions, ranging from William Shakespeare, to Rogers and Hammerstien to Sam Shepherd, with a few grand operas, several original plays and just plain silliness thrown in for variety.
In the meantime, the college has welcomed several other local and regional performance groups to its seasons. Along with Silver Stage Players came Blue Yeti Productions, offering more contemporary theatre fare. The Elko and Spring Creek High Schools have often graced the stage with their excellent work. The more recently established Elko Overland Stage has brought to these boards terrific musicals and family oriented shows. In other parts of the community, Hang Man Productions and now Ghost Light Productions depend on the talent pool of all of these organizations to bring their innovative and original work to Elko audiences. In short: theatre begets theatre, and there is no finer example of that than Great Basin College and Elko.
As the mission of Great Basin College has expanded, so has its service area. The college recently added Lincoln, Esmerelda, Mineral and Pershing counties to the original Elko, Eureka, Humboldt, Lander and White Pine Counties. Our service area now covers nearly 87,000 square miles with nearly 150,000 inhabitants. It's a big state, and Great Basin College intends to educate it. Using state of the art distance learning technologies, now students in even the furthest reaches of rural Nevada will have equitable access to the opportunities higher education has been providing to their urban counterparts for decades. It is a tremendous step for the college and a tremendous opportunity for the entire state of Nevada.
This year, for the first time, GBC theatre will offer acting classes using distance-learning technologies. For the first time, classes will be offered via interactive video to Battle Mountain, Ely and Winnemucca. A minimum number of students will be required in each site in order for the classes to be feasible. By combining traditional theatre teaching techniques with advanced technologies, students are accessing a learning experience with seasoned theatre professionals that heretofore had not even been conceived. Added to other fine arts and humanities courses already offered with distance technologies, and it is easy understand why Great Basin College is recognized as one of the most efficient and innovative colleges in the state.
Can you believe it's been twenty years?
Just over twenty years ago, a visionary group of people in Elko, including GBC's President Ron Remington and Jeanne Blach, the Executive Director of Great Basin College Foundation, decided to build a theatre on campus. You're sitting in the results of their efforts. Joined by members of Silver Stage Players and other committed individuals, funds were raised to build what was then about a $3.5 million facility. No small feat in a small town.
The Silver Stage Players opened the new theatre in 1995 with a production of the Broadway musical classic, Damn Yankees. A year later, GBC hired its first theatre professor, John Patrick Rice. Rice brought a broad background in professional theatre, television and film experience, along with several years of college teaching to the college. And thus was born the Great Basin College Theatre Program.
During Rice's first tenure as the theatre program's artistic leader, the program grew tremendously. Starting with just eight students, by the time he was invited to join the GBC administration, nearly 400 students were involved in various aspects of classes and productions, and 4,000 audience members came to campus each year.
Now, after several years, Rice returns to rebuild the theatre program to the level for which it was intended.
To celebrate 20 years of Theatre at GBC, the college is proud to announce the 2014-2015 Theatre Season. Starting in the fall with William Shakespeare's MACBETH, it is bloody story of ambition and betrayal. Before there were Francis and Clare Underwood in House of Cards, there were Lord and Lady Macbeth. It's a terrifically accessible play for young and old audiences alike. An added bonus is, Macbeth is often used to christen a theatre. We thought the 20th season was a good time to renew our commitment to theatre in this space.
Then, just in time for the holidays, A CHRISTMAS CAROL, a short version of the timely classic by Charles Dickens that will tickle your funny bone and give you pause to consider just what indeed forms the Spirit of Christmas.
And in the spring, perhaps the most ambitious production the GBC Theatre Program has ever produced: LES MISERABLES, directed on Broadway and in the more recent film by Cameron Mackintosh and based on the late nineteenth century historical novel by Victor Hugo, it is a story of passion, loyalty, perseverance and destruction like no other. It will be an event that cannot be missed.
And rounding out the season on a lighter fair, a series of children's plays designed to give the young and the young at heart something to enjoy and to think about that cannot be found on any sort of screen… large, small or pocket sized.
So, are you ready? WE ARE! Please help us to begin the celebration in the fall. Students interested in learning more should contact John Patrick Rice at 775-753-2240, or john.rice@gbcnv.edu.
GBC Theatre Presents Puss In Boots!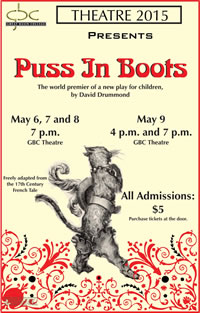 Please join us in celebrating the end of an incredible year of theatre at Great Basin College with Puss in Boots! It's a workshop production of a brand new play by David Drummond.
This romp for children features terrific performances by Bridget Gilboy, Titus Milan, Andrew Dolberg, Melanie Dolberg, Benjamin Jensen, Laura Jund, James Yaunick, Timothy Burns, Cassidy Goddard, and Masyn Bontrager.
The show opens tomorrow night, May 6, with performances each evening at 7 PM through Saturday. There will also be a 4 PM matinee on Saturday afternoon.
The run time of the show is about 50 minutes and it's appropriate for ALL ages. Admission is $5 for all ages. $20 for a family of four or more!
Dates:Wednesday, May 6 through Saturday, May 9.
Times: 7 PM Wednesday through Saturday evening, in addition to a 4 PM matinee on Saturday May 9.
Location: Great Basin College Theatre, Chilton Circle.
Tickets: Admission is $5 for all ages or $20 for a family of four or more! Purchase tickets at the door.
Presented by the Great Basin College Theatre Department!
For more information about the GBC Theatre Program, please contact:

Dr. John Patrick Rice: Professor of Theater
For more information about the Arts and Letters department, please contact:
Professor Russ Orr: Department Chair

Phone number: 775.753.2156
E-mail: russ.orr@gbcnv.edu
Office: McMullen Hall (MCML) #129 Elko Campus
Transform yourself...come play with the Great Basin College Theatre Program!
* All PDF documents require the Adobe Reader plugin for viewing, available free from the Adobe web site.