GBC and Diversity
Great Basin College Diversity Statement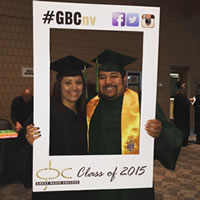 Great Basin College is an open door institution providing access to higher education and the opportunity for all students to learn and succeed in college. No one is excluded. GBC is committed to creating a learning environment that is respectful, in which all students, faculty, and staff can fully participate. GBC embraces the inherent value of diversity, recognizing that interaction between people with different perspectives, values, and backgrounds enhances learning.
Concerned About DACA?
For students having concerns about DACA, please contact Angie de Braga.
Angie de Braga
Nevada System of Higher Education Equity, Diversity, Inclusion Committee Member
Office: McMullen Hall 123
Great Basin College, Elko Campus
Phone: 775-753-2231
angie.debraga@gbcnv.edu
For Great Basin College students in emotional distress, please contact Julie Byrnes.
Julie Byrnes
Director, Disability Support and Related Services
Office: Leonard Center for Student Life
Great Basin College, Elko Campus
Phone: 775-753-2271
julie.byrnes@gbcnv.edu
Great Basin College DACA and undocumented students are encouraged to visit the Student Financial Services office in Berg Hall on the Elko campus to determine eligibility for student aid. Immigration status is not collected as part of this process. The Student Financial Services office phone number is 775-753-2289.
Sources of information regarding the rescission of DACA:
Diversity Events
Nevada System of Higher Education Diversity Summit Presents
Guest Speaker Bree Newsome
Community Organizer and Activist who removed the Confederate Battle Flag from the South Carolina State House. She is an award-winning filmmaker, writer, composer, singer, community activist and organizer who will share the essential role that art and symbols play in shaping culture and consciousness. She blends her artistic talents in pursuit of social and economic justice for all communities.
Thursday, March 30th
7:00 - 9:00 p.m.
Reno, Nevada
University of Nevada campus
Glick Ballrooms, The Joe
Sponsored by Western Nevada College, Desert Research Institute, University of Nevada, Great Basin College, Truckee Meadows Community College, and the Associated Students of the University of Nevada.
GBC Cares - A Guide to Engaged Learning
C

ivility - have respect for others: students, faculty, staff, and the campus community. Be respectful, polite, and considerate in any classroom, live or digital.

A

ctive - embrace the active process of learning. To maintain a class environment that is conducive to learning: Be diligent, engaged, and committed.

R

esponsibilities - you are accountable for your actions, work, words, and behavior. Courteous behavior and responses are expected: Be honorable, conscientious, truthful, and dependable.

E

xcellence - in the classroom, optimizes an atmosphere of teaching and learning. Classroom discussion is meant for everyone's viewpoint to be expressed on the topic at hand. All students should be afforded the courtesy and opportunity to be heard: Be exceptional.

S

uccess - successful college students embrace all of the educational experience and welcome diversity and different ideas. Embrace challenges.

Diversity Resources and Data
Please view our diversity resources:
For More Information Contact
Angie de Braga
Nevada System of Higher Education Equity, Diversity, Inclusion Great Basin College Committee Member
Great Basin College
Phone: 775-753-2231
angie.debraga@gbcnv.edu
Why Great Basin College
Great Basin College wants to be your choice for higher education. GBC offers associate and baccalaureate level instruction in career and technical education and academic areas. About 3,800 students are enrolled online from across the country and on campuses and centers across 86,500 square miles, two time zones, and ten of Nevada's largest counties. We border Arizona, Oregon, Idaho, Utah, and California. We are GBC!