GBC Student Life
We Are GBC!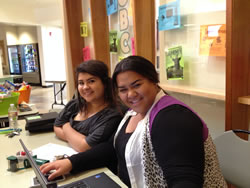 There's more to collegiate life than classes. The Leonard Center for Student Life (#15 on the Elko campus map) is the hub of a great many other activities. There you'll find:
The Student Governement Association sponsors numerous activities and events for students: Movie nights, themed events such as the annual costume party, game nights, Red Ribbon Week, and numerous community service events. All are ways students can enjoy and become involved in college life. GBC's theater, connected to the Leonard Center, holds plays, musical, talks, dance recitals, cocerts and many other events throughout the year. See the Events Calendar for what's coming up.
For more student information, review the GBC Student Handbook.
Another spot on the campus with many resources for students is the Advising and Career Center in Berg Hall (#1 on the campus map), including:
Want a job? The Center has a Student Job Bank.
Want to know more about yourself and about occupations you're best suited for? The Center offers self-assessment tests. The advisers and counselors there have many additional resources to assist you in getting on a career track.
Need a roommate? The Center has a Roommate Wanted bulletin board.
Thinking of transferring to a university? The Center can provide expertise to help the transfer process go smoothly.
For More Information Contact:
Adriana Mendez
Student Advocate
Great Basin College
1500 College Parkway
Elko, NV 89801
Phone: 775-753-2201
E-mail: adriana.mendez@gbcnv.edu
Why Great Basin College
Great Basin College wants to be your choice for higher education. GBC offers associate and baccalaureate level instruction in career and technical education and academic areas. About 3,800 students are enrolled online from across the country and on campuses and centers across 86,500 square miles, two time zones, and ten of Nevada's largest counties. We border Arizona, Oregon, Idaho, Utah, and California. We are GBC!