| | |
| --- | --- |
| | What is my User ID for the MyGBC Self-Service Center? |
Note: Your username for MyGBC will allow you to sign on to the Self-Service Center for any institution of the Nevada System of Higher Education (NSHE). It is your universal NSHE User ID.
New applicants to GBC are be sent their MyGBC User ID and preliminary password as soon as their application is processed. If you have not attended classes during the past three years, you will need to submit a new application for admission.
If you have previously logged into MyGBC, entered your correct email address, and completed your security question, you can retrieve a forgotten User ID by clicking the Forgot your User ID? link on the main login page.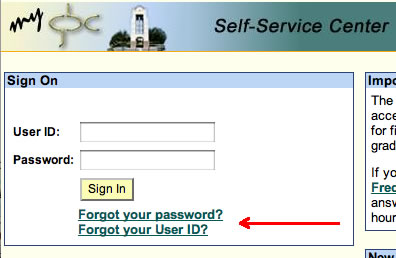 If you did not receive your MyGBC User ID or cannot retrieve it, please call 775.753.5087 during regular business hours, or send an email to mygbc@gbcnv.edu. If you email, be sure to include the following information:
Your full name
Your date of birth
Your email address
Your telephone number (necessary if the email address provided does not agree with the one on file for you at GBC)