Library Events
The Great Basin College library offers ongoing programs and events throughout each semester, including art exhibits, a lunch lecture series, historical and culture programming, and workshops. If you are interested in having the GBC Library host your event, please contact Geneva Blackmer at 775-753-2223 or geneva.blackmer@gbcnv.edu.
Upcoming Events
GBC Library Lunch Lecture Series
"Pollution: It's Spreading Like Wildfire"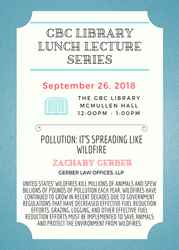 Sept. 26, 2018
Noon- 1 at the GBC Library
United States' wildfires kill millions of animals and spew billions of pounds of pollution each year. Wildfires have continued to grow in recent decades due to government regulations that have decreased effective fuel reduction efforts. Grazing, logging, and other effective fuel reduction efforts must be implemented to save animals and protect the environment from wildfires.
BRING A BAG LUNCH!!
About the Speaker:
Zachary Gerber is a partner at Gerber Law Offices, LLP located in Elko, Nevada. The firm practices in the area of property rights and civil law. Zach is a fifth generation Elko County resident, and is the youngest son of Grant Gerber, who spent his life advocating for and protecting private property rights. Zach has been a participant and supporter of the Kelly Springs repairs project, Jarbidge Shovel Brigade, Klammath Bucket Brigade, Elko County's Sage Grouse Land Management Pilot Projects, Smoked Bear Campaign, and Grass March/Cowboy Express. He is a board member of the Off-Road Motorsports Hall of Fame, and is the author of the article Pollution: It's Spreading Like Wildfire. He presented the information in this article at the Range Rights Symposium held in Modesto, California on April 20, 2018, which can be viewed at rangerights.com.
Facebook Event:
https://www.facebook.com/events/305257090043223/
Elko Art Club Exhibit
The GBC Library will be hosting an art exhibit which features members of the Elko County Art Club!
Artists include Tess Senrud, Karie Denham, Dave Patton, and Glen Ellen Finley. The opening reception will be held September 24th. Doors open at 4:30 pm, and there will be an artist talk from 5:15-5:45 pm, followed by a Q&A session.
The exhibit will feature a variety of mediums including photographs and acrylic paintings.
facebook page: https://www.facebook.com/events/
1597521803880782/
Writer's Workshop: Writing from Your Roots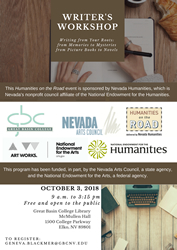 Writer's Workshop: Writing from your Roots
with authors Terri Farley and Suzanne Morgan Williams
October 3rd, 2018 - 9 AM - 3:15 PM
The Great Basin College Library and Nevada Humanities invite the community to a Humanities on the Road event. This Humanities on the Road event is sponsored by Nevada Humanities, which is Nevada's nonprofit council affiliate of the National Endowment for the Humanities.
This program has been funded, in part, by the Nevada Arts Council, a state agency, and the National Endowment for the Arts, a federal agency.
This free event takes place on Wednesday, 3, October, 2018 at The Great Basin College Library, 1500 College Parkway, McMullen Hall, Elko, NV 89801. To register, please contact Geneva Blackmer at geneva.blackmer@gbcnv.edu or 775-753-2223.

Schedule:
9-9:15 AM - Welcome and Introductions
9:15-10 AM - Writing from Your Roots; from Memoirs to Mysteries, from Picture Books to Novels
10:05-11:00 AM - Choose one hands-on workshop: Jump Start Your Stories with Childhood Memories with Terri Farley; or Scenes – Where the Story Magic Happens with Suzanne Morgan Williams
11 AM - Break
11:15 AM-12:15 PM - Who Am I and Where the Heck Are We? Writing Vivid Characters and Settings – workshop with Suzanne and Terri
12:15 – 1:15 PM - Lunch
1:15-1:45 PM - Applying What You've Learned – Free writing from a prompt or revise a section of your own work.
1:45- 2:45 PM - Model Critique Group and Guided Feedback from Terri and Suzanne. Bring work 5 copies of up to 2 pages of work to share or just listen and learn.
2:45-3:15 PM - Question and Answer Session and Goodbye

Terri Farley
Terri Farley is the best-selling author of books about the contemporary and historic West. Wild at Heart: Mustangs and the Young People Fighting to Save Them, non-fiction published by Houghton-Mifflin-Harcourt, is a Junior Library Guild selection, winner of the Sterling North Heritage award for Excellence in Children's Literature and has been honored by Western Writers of America, National Science Teachers Association and American Association for the Advancement of Science. She is the newest inductee into the Nevada Writers Hall of Fame. Her Phantom Stallion (HarperCollins) series for young readers and Seven Tears into the Sea (Simon and Schuster) have sold over two million copies in 27 countries.
Suzanne Morgan
Suzanne Morgan Williams is the author of the middle grade novel Bull Rider and eleven nonfiction books for children. Bull Rider is a Junior Library Guild Selection, is on several state award lists and won a Western Heritage Award from the National Western Heritage and Cowboy Museum. Her nonfiction titles include Piñatas and Smiling Skeletons, The Inuit , and China's Daughters. Suzanne has presented and taught writing workshops at dozens of schools, professional conferences, and literary events across the US and Canada. She is a Nevada Arts Council Artist in Residence and was Society of Children's Book Writers and Illustrators Member of the Year, 2012. Visit www.suzannemorganwilliams.com
Facebook event link: https://www.facebook.com/events
/235278300500699/
Onging Events
The Incredible Edible Egg
Georgene Proutsos-Malloy's exhibit "The Art of Eggery" is now on loan at the GBC Library. Georgene began working with eggs as a medium after attending the Art of Eggery Continuing Education course at GBC in 2006.
Since then, she has traveled all around the world showing her work, and has won three international competitions.
Facebook event:
https://www.facebook.com/
events/1144051902415735/
New GBC Library Exhibit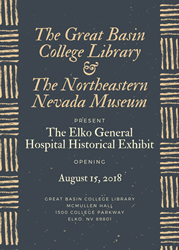 The Great Basin College Library and the Northeastern Nevada Museum invite the public to join them as they present The Elko General Hospital Historical Exhibit.
The new exhibit will feature artifacts from the early Elko General Hospital and will open on August 15 in the Great Basin College Library located in McMullen Hall on the Elko campus at 1500 College Parkway.
The exhibit is open to one and all and runs through September!
For additional information please check out our Facebook page! Click here to view the flyer!
For More Information Contact
Great Basin College Library
McMullen Hall
1500 College Parkway
Elko, NV 89801
775-753-2222
Why Great Basin College
Great Basin College wants to be your choice for higher education. GBC offers associate and baccalaureate level instruction in career and technical education and academic areas. About 3,800 students are enrolled online from across the country and on campuses and centers across 86,500 square miles, two time zones, and ten of Nevada's largest counties. We border Arizona, Oregon, Idaho, Utah, and California. We are GBC!