Welcome to Resident Events!
On campus living is an important part of the educational experience and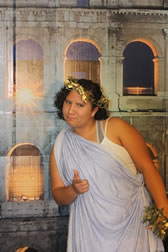 student life. It is far easier to find study groups with students who share your interests if you live on campus.
You can make life-long friendships. There are many opportunities to attend social activities and events in campus housing. Maybe you want to get involved with other campus focused groups, clubs and organizations... living on campus makes that easier.
A complete college student experience includes being around other students with like-minds, similar goals, and common interests.
Student Housing Events
CTE Check-In Week
January 1-2, 2015
January 5, 2015, CTE classes begin
Regular Check-In Week
January 12-16, 2015
January 20, 2015, Regular classes begin.
Informational
January 15, 2015, 1st housing payment due
February 15, 2015, 2nd housing payment due
March 15, 2015, 3rd housing payment due
April 15, 2015, 4th housing payment due
Monthly Events
February-

Mardi Gras: Fat Tuesday - February 17th - 2015

March-

Carnival: Tuesday - March 17th - 2015

April-

Minute to Win It: Tuesday - April 21st - 2015

May-

End of Year BBQ: Tuesday - May 5th - 2015
Students taking advantage of on-campus housing don't just survive…They succeed!
Student Housing Photo Gallery
For More Information Contact
Stacie Combs
Student Housing Coordinator
Griswold Hall
Great Basin College
1500 College Parkway
Elko, Nevada 89801
Phone: 775-753-2360
E-mail: stacie.combs@gbcnv.edu

Why Great Basin College
Great Basin College wants to be your choice for higher education. GBC offers associate and baccalaureate level instruction in career and technical education and academic areas. About 3,800 students are enrolled online from across the country and on campuses and centers across 86,500 square miles, two time zones, and ten of Nevada's largest counties. We border Arizona, Oregon, Idaho, Utah, and California. We are GBC!